Critical and Acute Care Monitoring
Automated with powerful A.I. predictions to achieve ZERO HARM
Predictive Patient Monitoring for Zero Harm
ezClinic's AI-powered predictive patient monitoring acts as a personal assistant for critical and acute care nurses, providing each patient with constant virtual monitoring. Its predictions help to prevent harm, uncertainty, and risk, ensuring that understaffing and multitasking no longer result in preventable deaths.

Nurses are unable to constantly monitor their patients due to the many tasks that take them away from the bedside.

With ezClinic's assistance, nurses are always alerted when their patients are at risk, allowing them to intervene and prevent harm, improving patient outcomes, and shortening length of stay. Nurses now have peace of mind that they won't miss any critical changes in patient status, giving them the confidence and ability to make a significant impact on patient outcomes.
Monitoring Hardware
Quick-mount A.I. powered 3D sensors

Simple touchscreen control panel

No patient wearables or consumables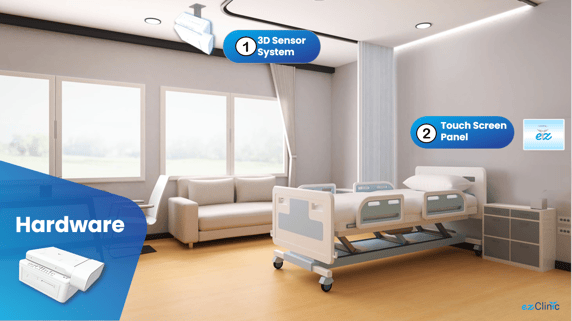 User-Friendly Design
Just turn it on
Select monitoring options
No adjustments or calibrations needed