Others React, We Prevent!
About Us
ezClinic is a healthcare technology company based in Chicago, IL. We strive to become the essential and critical resource for patient safety and risk management by setting the new standard of care in patient monitoring. We are determined to provide error-free and efficient A.I. preventative monitoring assistance that empowers ICU nurses to have a greater impact on patient outcomes.
Our team includes highly experienced individuals in volumetric (3D) video, machine learning / artificial intelligence, telemedicine, and medical imaging & device R&D. We've performed extensive research, provider interviews, and completed the Midwest Regional I-Corps Node "Medical Jumpstart: Technology Commercialization Workshop," validating the need and commercial viability of our technology.
Our Approach
ezClinic's Patient Action Detection Engine (PADE) utilizes proprietary algorithmic machine learning that enables our A.I. to reliably monitor and alert for the prevention of unplanned extubations. Rather than alerting after the failure of securements or standard operating procedures, PADE will alert ICU nurses to prevent safety events that cause patients to be starved of vital oxygen that results in morbidities and death.
By integrating 3D/volumetric, skeletal, and object tracking, PADE observes micro-movements & expressions and recognizes learned trends that lead to safety events, and alerts nurses through a desktop application to prevent them.
While our current objective is preventing unplanned extubations, PADE will also be utilized to assist in monitoring other safety concerns such as:
Nasogastric (NG) Tubes

PICC & Midline Catheters

Non-convulsive Seizures

Aggressive/Violent Behaviour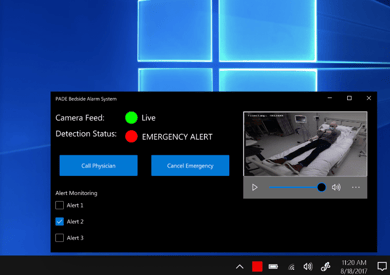 Our Partners and Memberships