Critical and Acute Care Monitoring
Automated and Predicted with AI-powered
3D physical and physiological data analytics
Predictive Patient Monitoring
ezClinic's AI-powered predictive patient monitoring works like a personal assistant for critical/acute care nurses, giving every patient dedicated virtual monitoring. With predictions to prevent harm, uncertainty, and risk; patients understaffing and multitasking will no longer result in preventable deaths.
And with the added assistance, nurses feel the relief from added workloads with a greater capacity to monitor more patients at once.
If your current nurse-to-patient ratio is (1) one nurse for every (2) two patients (1:2) - with PAM it's now three-to-two (3:2).
Monitoring Hardware
Quick-mount A.I. powered 3D sensors

Simple touch screen control panel

There are no wearables or consumables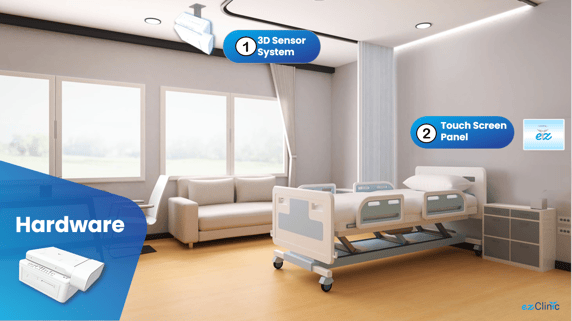 User-Friendly Design
Just turn it on
Select monitoring options
There are no adjustments or calibrations needed