Critical and Acute Care Monitoring
Automated with powerful A.I. predictions to achieve ZERO HARM
Predictive Patient Monitoring for Zero Harm
ezClinic's AI-powered predictive patient monitoring works like a personal assistant for critical/acute care nurses, giving every patient dedicated virtual monitoring. With predictions to prevent harm, uncertainty, and risk; understaffing and multitasking will no longer result in preventable deaths.
Nurses can not be everywhere at once. They have many tasks that take them away from patients' bedsides, preventing their ability to monitor them for adverse events.
With ezClinic assisting, nurses are always aware of when patients are at risk so they can prevent harm from affecting outcomes and shorten their length of stay. Even with added workloads from staffing shortages and patient influxes, nurses have a greater capacity to care for more patients at once - while achieving ZERO HARM.
Monitoring Hardware
Quick-mount A.I. powered 3D sensors

Simple touchscreen control panel

No patient wearables or consumables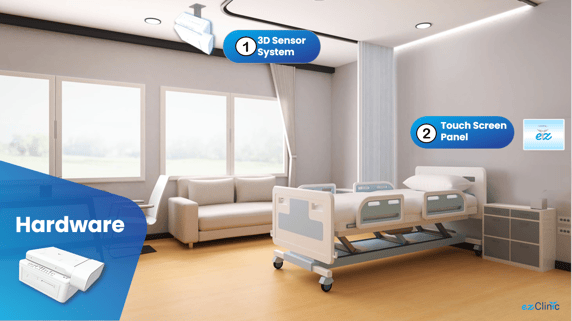 User-Friendly Design
Just turn it on
Select monitoring options
No adjustments or calibrations needed