About Unplanned Extubations (UEs)
Unplanned Extubation: the unintentional and uncontrolled removal of an intubated patient's endotracheal tube (ventilator/breathing tube) due to self-extubation, nursing care, or movement of the patient. UEs, are one of the most underreported safety events, especially when reporting associated morbidities or death.
PreCOVID data of underreported values present averages of 7.4 - 12% occurrence with ranges of .5%-36% (sm-lrg ICUs).

We performed 173 provider interviews from (med-lrg) ICUs finding averages of 5% from shared administrative reports, and up to 17% from provider statements.

Each year, 1.65 million adult ICU patients are intubated. Of these patients, ~200,000 experience unplanned extubations.

Over 50,000 ICU patients die as a result of unplanned extubations each year.

The associated costs per UEs can vary widely, with costs averaging $41,000.

Annually, adult unplanned extubations collectively cost hospitals $8.14 billion. Including neonatal and pediatric ICU, this annual cost is around $11.34 billion.

Patient Complications
Increased mortality rate; more than 50,000 deaths annually in the U.S.

Increased risk of vocal cord injury; affecting the ability to speak and swallow.

Increased risk for hypoxemia (lack of oxygen), resulting in:

Brain damage, cardiac arrest, respiratory failure, hemodynamic instability, and aspiration pneumonia.
Provider Complications
| | |
| --- | --- |
| | Safety events eliminate incentives for group payment models. |
| | Disrupt clinical workflow |
| | Provider Post Traumatic Stress Disorder (PTSD) and Burn Out Syndrome (BOS) |
| | Risk of Malpractice Lawsuit |
Pre-COVID Annual Trends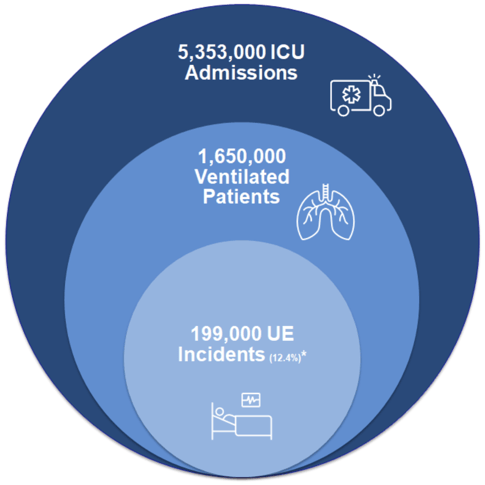 UEs are highly under-recognized and under-reported. Our interviews show an average report rate of 12% in med-lrg hospitals.
These numbers reflect the median of available data, ranging from 0.5% - 35.8%
Want to Learn More About Unplanned Extubations?
Check out our "News" Page, or "Contact Us" to get in touch!